Costa Rica is a great little country but they have many dirty little secrets that they don't want anyone to know! Here are a few cases of corruption, because we have the balls to bring them to the lite of day.
Corruption Incident One
Dan Fowlie the king of the Pavones! In my time, I have seen more times than I can count where a North American has gotten cheated out of land that they were the owner of but this has to be on the top of the list of the worse. The Government of Costa Rica was the thief of this property that now is worth many millions of dollars.
Dan came to Costa Rica when no one had a clue where it was. The Government stole his land and barred him from Costa Rica and there were never any charges!
I invite you to read the story and look at the videos!
• http://hubpages.com/literature/Paradise-Found-Paradise-Lost


Corruption Incident Two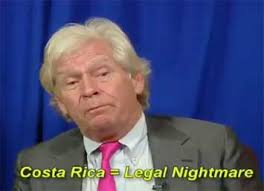 Sheldon Haseltine is just a great guy he is the real owner of a large tract of land next to the most expensive Resorts in Costa Rica. Some well-connected men that are the owners of the largest News Paper in Costa Rica, the owner of Stewart Title and the owner of the largest chain of connivance stores paid a squatter to move on to his land!
Sheldon Haseltine now has spent over $20,000 and over 15 years attempting to get his day in Court!
This case has received attention from FORBES magazine, the US embassy, but not from the local press, because the main newspaper is owned by his brother in law.
Special note on this: In the middle of all this his bodyguard was found murdered on the beach!
• https://www.forbes.com/forbes/2008/1110/144.html
Corruption Incident Three
Then there is the guy known as "Crazy Jim"! He currently is running an insurance fraud on The State of Washington, his claim is that he has a bad foot but he was photographed by a newspaper in Costa Rica fighting bulls. He is getting "north of $3,000 per month" from The State of Washington.
He uses over eight names and e-mails, he has admitted being in possession of an illegal hand gun, his sister has a restraining order on him, he has said he is going to kill a girl in Costa Rica and people in the U.S. "when I get my AK", he currently has 2-3 warrants out on him from Ca. his various social accounts have been either removed or suspended over ten times for making threats or posting personal info illegally!